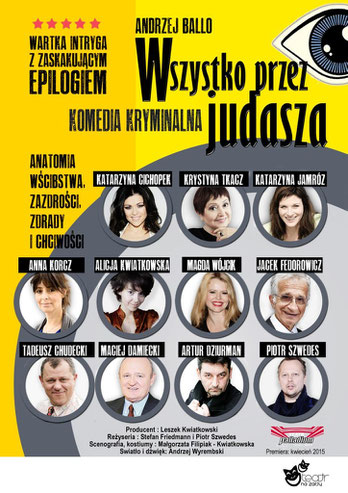 19 marca 2016 godzina 15.30 - nietypowa, jak na wyjście do teatru. 
Ale to nie przeszkodziło w frekwencji - sala mojego ukochanego kina Świt zapełniona prawie do ostatniego miejsca. 
Tym razem towarzyszył mi Krystuś. Zrobiliśmy sobie małą przechadzkę w słoneczne popołudnie. Dostaliśmy ogrom dobrego humoru i zabawy.
Sam tytuł przewrotny i dwuznaczny. Jakie skojarzenia w Was budzi?
Ja myślałam o zdrajcy, a nie małym otworku w drzwiach :) 
Choć zdrady i chciwości nie zabrakło...
Całość zgrabna, inteligentna. Wspaniała gra aktorów. Co na żywo, to na żywo!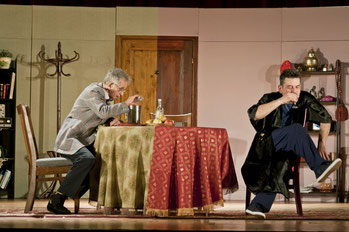 W sztuce znajdziecie odpowiedź na przekorne tytułowe pytanie. Perypetie dwóch małżeńskich par mieszkających na tym samym piętrze wiedzione komediowym korowodem złożonym z zabawnych i błyskotliwych dialogów. Anatomia wścibstwa, zazdrości, zdrady i chciwości. Matematyka perfidii,        pomysłowości, hipokryzji i egoizmu. Świat naukowców kontra świat artystów. Piotr, Ada, Karol i Hanna - postaci ciekawie zarysowane i niebanalne w sieci dziwnych, wręcz nieoczekiwanych sekwencji i powiązań. Komedia z filozoficznym przesłaniem traktująca o ludzkich słabościach, niezależnych w tym wypadku od intelektu i zdolności człowieka. Wszyscy jesteśmy wystawiani nieustannie na pokusy i zazwyczaj bywamy wobec nich bezsilni. Wartka intryga z zaskakującym epilogiem. Jest tu też Szekspir i Tarantino. I to dosłownie. Po obejrzeniu tej sztuki inaczej spojrzycie na sąsiadów, być może i wymienicie drzwi. Konwencja tej sztuki to oczywiście kryminał. Czarny jak humor.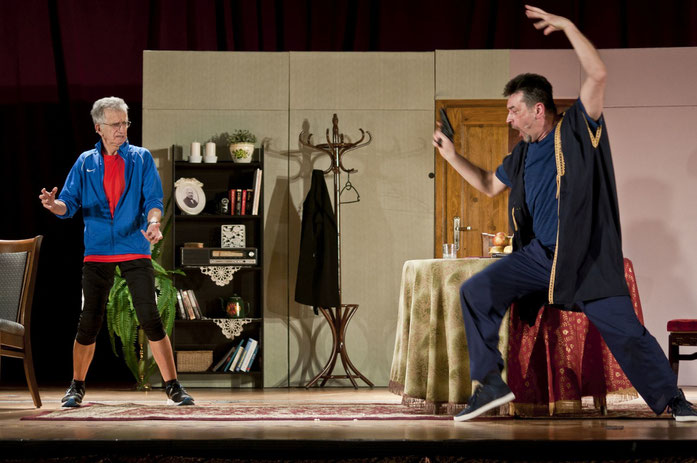 Na szczęście nasze nastawienie i postrzeganie starych, dobrych sąsiadów nie uległo zmianie! Nadal żyjemy w przyjacielskich, wręcz rodzinnych relacjach. Co więcej -dzięki śmiechowi Wandzi, pogaduchom z Heniem, serdeczności Maćka czy Jarka -życie w domu z betonu uważam za udane. A judasz - jak to judasz - bywa potrzebny. Np. by zgarnąć fajnego sąsiada do pomocy w pokonaniu schodów...
Jeszcze fragment mistrzowskiej gry. Wprawdzie nie z czechowickiego występu -zakaz nagrywania każdy uszanował. Jednak śmiało mogę stwierdzić, że pompki w wykonaniu Pana Jacka Fedorowicza i u nas zostały nagrodzone gromkimi brawami.